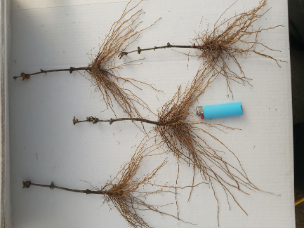 Click to enlarge image(s)
'ZOJKA' is considered one of the sweetest flavoured berries from the Polish Breeding Program. It has a dome shaped crown, vigorous upright growth 6' wide by 5' tall. 'ZOJKA' has excellent productivity.

It is a companion plant to AURORA.

Recommended ratios are as high as 5:1

Prices start at $5.25 per cutting (CAD) Canadian Dollars.

Sold in BUNDLES OF 50 cuttings/bundle.
Who might be interested in this unique type of stock?

1) Garden Centres
2) Greenhouses
3) Garden Clubs
4) Fundraisers
5) Wedding Favours or Gifts
6) Anyone looking to reduce orchard start-up or expansion costs

Some of the advantages of our ORGANIC Bare Root Cuttings ARE:

1) Organic
2) No Root Spiralling-Excellent Root Formation
3) More economical shipping than containerized stock
4) Unique opportunity

To Avoid Disappointment order NOW to reserve your plants for SPRING 2021 delivery, limited supply available...

Organic 'ZOJKA' Haskap #1 Bare Root Cuttings are currently licensed for shipment to CANADA, UNITED STATES, THE EUROPEAN UNION, NORWAY and SWITZERLAND