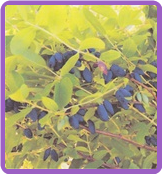 Click to enlarge image(s)
HONEYBEE has been selected by the University of Saskatchewan to be a Pollenizer for BOREALIS, TUNDRA, and INDIGO GEM haskap. It blooms at the same time and has given good fruit set.

The plant is very fast growing, productive and starts fruiting at an early age. Its fruit are cylindrical.

HONEYBEE holds onto its fruit firmly and stays on the bush longer than most other varieties. It is excellent for Juice.

Recommended ratios are 1:2

See our "Links" Page for a detailed description of the New HONEYBEE haskap Cultivar by Dr. Bob Bors, University of Saskatchewan.
HONEYBEE Haskap Plugs are licensed for shipment to CANADA and UNITED STATES

Prices start at $16.95 per plug (CAD) Canadian Dollars. Get together with family, friends, fellow gardeners and co-workers to order together and take advantage of our DISCOUNT pricing...

SOLD OUT for SPRING 2018...To Avoid Disappointment order NOW to reserve your plants for FALL 2018 DELIVERY, limited supply available
1 - 1
2 - 49

$

7

.

00

each (2 to 49 plants)

50 - 99

$

6

.

00

each (50 to 99 plants)

100 - 499

$

5

.

00

each (100 to 499 plts)

500 - 999

$

3

.

85

each (500 to 999 plts)

1,000+