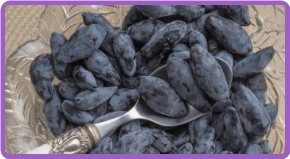 Click to enlarge image(s)
'Boreal Blizzard' berries are huge, for a Haskap. The spoon in the photo is 3.5 cm wide! Well-pollinated fruits are easily greater than 3 grams.

Quoted from Dr. Bob Bors from the University of Saskatchewan "Boreal Blizzard's berries are more than twice as heavy as 'Tundra' or 'Borealis' and are 3 times heavier than the largest varieties in our trial a decade ago. I've noticed most variety descriptions on the internet neglect to mention the weight of their berries. This is because some haskap can have air pockets within the berries and long thin berries don't weigh much. But some Haskap is very meaty and heavy, and 'Boreal Blizzard' is one of them."

See our "Favorite Links" page for the detailed description of this New cultivar by Dr. Bob Bors, University of Saskatchewan. Photo courtesy University of Saskatchewan
BOREAL BLIZZARD Haskap Plugs are licensed for shipment to CANADA and UNITED STATES

Prices start at $19.95 per plug (CAD) Canadian Dollars. Get together with family, friends, fellow gardeners, and co-workers to order together and take advantage of our DISCOUNT pricing...

Sold Out for SPRING. To Avoid Disappointment order NOW to reserve your plants for FALL 2019 DELIVERY, limited supply available...
1 - 1
2 - 49

$

9

.

90

each (2 to 49 plants)

50 - 99

$

7

.

25

each (50 to 99 plants)

100 - 499

$

5

.

90

each (100 to 499 plts)

500 - 999

$

5

.

00

each (500 to 999 plts)

1,000+