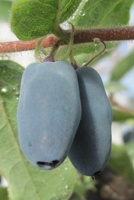 Click to enlarge image(s)
In Honor of the holiday season,we are introducing the perfect haskap pair for the home gardener. AURORA and BOREALIS have similar great flavour and make a perfect Pair! AURORA has large berries (1.9 grams) that are very easy to pick. It is very productive with high disease resistance. AURORA has been selected by the University of Saskatchewan to Pollenizer BOREALIS. The U of S selected BOREALIS as the most appropriate for U-Pick Orchards and Home Gardens alike.

AURORA & BOREALIS Haskap are licensed for shipment to CANADA and UNITED STATES

To Avoid Disappointment order NOW to reserve your plants for SPRING 2016 DELIVERY, limited supply available...