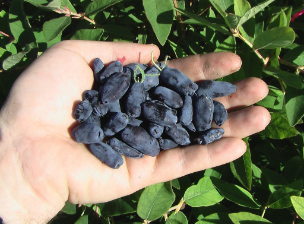 Click to enlarge image(s)
Most agree this is the sweetest haskap berry with a sweet tart flavour reminding you of blueberries, hinting of raspberry and plum.

The berries are plump, boxy and have achieved the largest sample size at the University of Saskatchewan. Mechanical processing could be difficult due to bleeding from the stem.

The University of Saskatchewan selected 'BOREALIS' as the most appropriate for U-Pick Orchards and Home Gardens. Photo courtesy University of Saskatchewan.

It is a companion plant to 'AURORA' and 'HONEYBEE'

Prices start at $23.75 per plant (CAD) Canadian Dollars. Get together with family, friends, fellow gardeners and co-workers to order together and take advantage of our DISCOUNT pricing...

To avoid disappointment order NOW to reserve your plants for SPRING/SUMMER 2023 delivery, limited supply available...
1 - 1
2 - 49

$

11

.

50

each (2 to 49 plants)

50 - 99

$

8

.

50

each (50 to 99 plants)

100 - 499

$

6

.

95

each (100 to 499 plants)

500 - 999

$

5

.

85

each (500 to 999 plants)

1,000 - 1999

$

5

.

00

each (1000 to 1999 plants)

2,000+

$

4

.

50

each (2000+ plants)