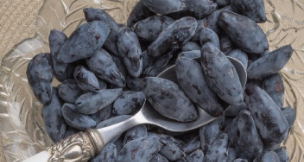 Click to enlarge image(s)
'BOREAL BLIZZARD' berries are huge, for a haskap berry. The spoon in the photo is 3.5 cm wide! Well-pollinated fruits are easily greater than 3 grams.

Quoted from Dr. Bob Bors from the University of Saskatchewan "BOREAL BLIZZARD's berries are more than twice as heavy as 'TUNDRA' or 'BOREALIS' and are 3 times heavier than the largest varieties in our trial a decade ago. I've noticed most variety descriptions on the internet neglect to mention the weight of their berries. This is because some haskap can have air pockets within the berries and long thin berries don't weigh much. But some haskap is very meaty and heavy, and 'BOREAL BLIZZARD' is one of them." In most years 'Boreal Blizzard' blooms and ripens a few days later than 'Tundra', Honey Bee'and the 'Indigo Series'. For a few years blooming happens at the same time. This variety could extend the harvesting season of Haskap a week or two. Later bloom time will make the bees happy to stay in the orchard.
See our "Favourite Links" page for the detailed description of this New cultivar by Dr. Bob Bors, University of Saskatchewan. Photo courtesy University of Saskatchewan.
Prices start at $25.75 per plant (CAD) Canadian Dollars. Get together with family, friends, fellow gardeners, and co-workers to order together and take advantage of our DISCOUNT pricing...

To Avoid Disappointment order NOW to reserve your plants for SPRING/SUMMER 2023 delivery, limited supply available...
1 - 1
2 - 49

$

12

.

90

each (2 to 49 plants)

50 - 99

$

9

.

25

each (50 to 99 plants)

100 - 499

$

7

.

70

each (100 to 499 plants)

500 - 999

$

6

.

50

each (500 to 999 plants)

1,000 - 1999

$

5

.

50

each (1000 to 1999 plants)

2,000+

$

4

.

70

each (2000 + plants)