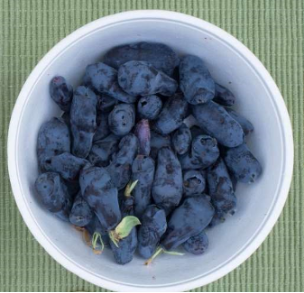 Click to enlarge image(s)
'BOREAL BEAST' was so named to help people remember that 'Beauty and the Beast' belong together for cross-pollination. 'BOREAL BEAST' overlaps with both 'BOREAL BLIZZARD' and 'BOREAL BEAUTY'. It starts when 'BOREAL BLIZZARD' starts and ends when 'BOREAL BEAUTY' ends and is pollen compatible with both of them as well as 'AURORA'. 'BOREAL BEAST' is the closest selection for being in sync with 'BOREAL BEAUTY' for bloom time that also has qualities showing commercial potential.

See our "Favourite Links" page for the detailed description of this New cultivar by Dr. Bob Bors, University of Saskatchewan. Photo courtesy University of Saskatchewan.
Prices start at $25.75 per plant (CAD) Canadian Dollars. Get together with family, friends, fellow gardeners and co-workers to order together and take advantage of our DISCOUNT pricing...

To Avoid Disappointment order NOW to reserve your plants for SPRING/SUMMER 2023 delivery, limited supply available...
1 - 1
2 - 49

$

12

.

90

each (2 to 49 plants)

50 - 99

$

9

.

25

each (50 to 99 plants)

100 - 499

$

7

.

70

each (100 to 499 plants)

500 - 999

$

6

.

50

each (500 to 999 plants)

1,000 - 1999

$

5

.

50

each (1000 to 1999 plants)

2,000+

$

4

.

70

each (2000 + plants)